Updates for 1.41b: 1.4full for 1.x, 1.41 (mirror), and 1.41b (mirror).
Because the speed of (automatic) downloads in game is limited 12kB/s with this version, a not too old reliable resource for downloads seems handy. By installing huge but unused mappacks and mods you might end up with a chaotic folder RtCW/main using at least 2G, just believe me.



Xtra DL's:
PunkBuster Updater (mirror) - This anti cheat software always had trouble with updates. It feels like it killed the versions that had it installed (v1.33 GoTY and up) for a big part. But.. For some cheating truly was part of the game and because of this many players felt the need to update to 1.33 and up.. And got trapped with empty serverlists.
Extra Maps for RtCW 1.41b <- recommended link
Popular Modifications (1.41b addons in form of alteration) - There is no real need to download the modifications below but these are pretty essential if you like to randomly pick populated servers atm in v1.4. With installing you'll be able to join more servers and also instantly with far less downloads @12kBps before joining a server.

Orange Smoothie Pack 0.90 - OSP seems to be a bit outdated but was most competitive and it's still used. Just extract the zip file to \Program Files\RtCW\

[ATT]


WildWest (mirror; alternative installer; linux) Note that the original site shows older versions.

(links updated oct2013)


Nice totalconversion mod as they call it to play every once in a while. There's normal running speed and no strafejumping. This 1.4 style of Cowboys and Bandits in at least 7 maps in pretty big maps with nice sounds, results in a more relax way of playing in a very own atmosphere.


From sunday @21:00 cet till later seems only/best time to play.


Just a few extra WW-maps are needed on top of the install.Recommended: Throw the folder WildWest from the new created install(pack) in your working 1.4 install folder (for instance c:\\Program Files(86)\Return to Castle Wolfenstein 1.4\ ).


[/ATT]

From sunday @21:00 cet till later seems only/best time to play

(atm 16 players in wwbandit server!). Update nov'11: At this moment 0 players and on working days evenings (cet) 10 players a day according to the stats.
Omni-bot - put files in ProgFiles\rtcw\omnibot
Fritzbot (org site) - Just for the Fritz botserver. Extract fritzbot.zip to \Program Files\RtCW\ and put mp_zfritzsound2.pk3 in folder \Program Files\RtCW\fritzbot

Wolf Tactics

mod - No servers/website atm. Will do research on it.. Err, might..
Note that Banimod, shrubmod and Omni-bot 0.81 are serverside mods. Meaning that you should have set Auto downloads ENABLED in menu Multiplayer in game!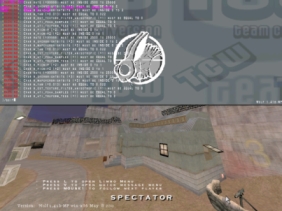 <- Pb annoying as always

Edit 3/2012: Tested some more 1.4(1b) Mods that needed a client side install. I started servers and read some guides that came often with the mod. See pics above..
Unfortunately I saw just 1 other server in one of them.. For now please check out the mods yourself. I checked out WolfTactics, TeamConversion and Degeneration tonight. Just to see if these mods were working. And they did. All use the masterpatched RtCW 1.4 install so use a working masterserver. It's all I know about these mods atm.